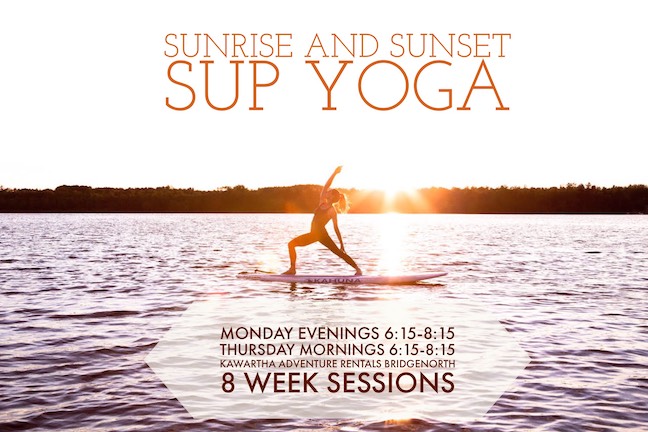 Immerse yourself into an experience of presence and stillness. Integrate the peace and calm of your yoga practice with the quiet clarity of nature, surrounded by the elements. A leisurely paddle will bring us to a quiet and secluded area on Chemong Lake where we'll float on the water and leave the walls and floors behind. The class will start with a mindful meditation to draw your awareness into the present moment, and then will move through a series of postures that focus on breath, balance, movement, presence, and the sights and sounds that surround us. The series will progress over the 8 weeks, beginning by exploring your balance and movements on the surface of your board, and increase toward a flow-style practice that integrates core-challenging postures, lunges, downward dog, standing postures, warrior poses, balancing poses, and more. Work progressively toward increased core stability, inner-calm, balance, and clarity, week-by-week. Modifications will be continuously given throughout the series so that your practice may best serve you, and you will always be encouraged to move at your own pace and level of comfort.
Discover how the peacefulness of floating on the water transmits not only to your yoga practice, but into your life as well. It will be love at first glide!
Walk-ins welcome
$40 per class. register at least 24 hours in advance.
Details
Price for the full 8 weeks is $240, which includes two full hours on the water, paddling instruction (if needed), a full length yoga class that will be both challenging and deeply relaxing, and all equipment rentals.
Sign up for either Monday evenings (beginning July 3rd and running consecutively for 8 weeks until August 21st), or Thursday mornings (beginning July 6th and running consecutively for 8 weeks until August 24th).*
Private classes and private group classes are available for booking at alternative times, please contact for more information.
*Make-up classes will be available/scheduled at the end of summer if a class needs to be cancelled due to weather